SWAROVSKI SLS AMG
Maisto Announces the 1:18 Mercedes-Benz SLS AMG made with Swarovski Elements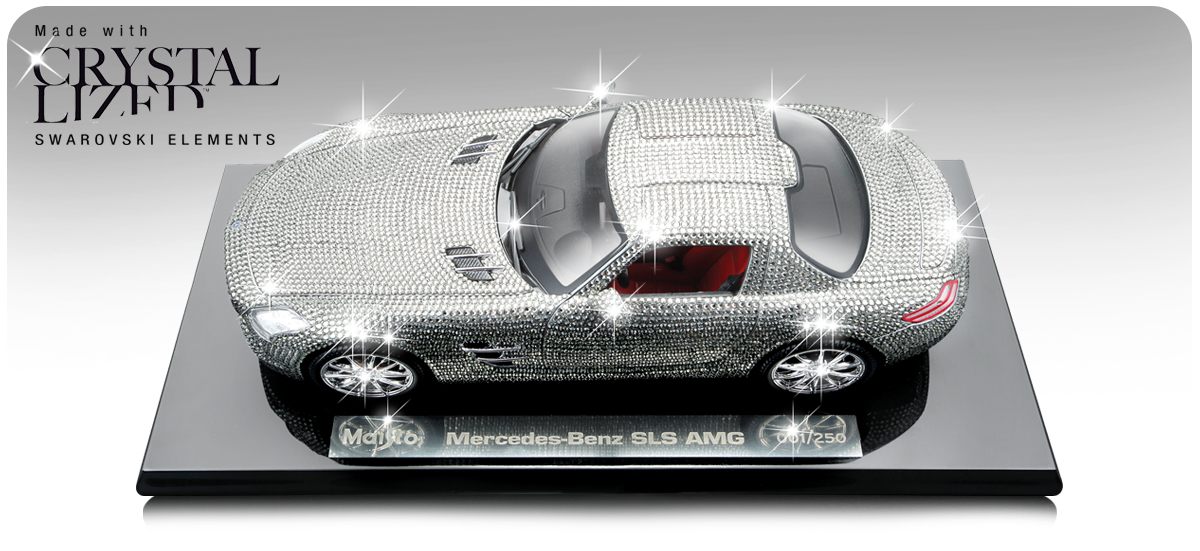 Maisto International, a worldwide leader in vehicle replicas in the toy and hobby industries, announced they will be producing a 1:18 Mercedes-Benz SLS AMG MADE WITH SWAROVSKI ELEMENTS. The product will be made in extremely limited supplies.
This is the second 1:18 replica that the company has produced using MADE WITH SWAROVSKI ELEMENTS. In early 2009, the company released a Lamborghini Murcielago LP640.
"This combination of all of these brands - Mercedes-Benz, SWAROVSKI ELEMENTS, and Maisto is extremely exciting," said Roger Ngan, Director of Product Development for May Cheong Group. Ngan added "The production process for a vehicle such as this is quite unique. Aside from the normal process of creating a quality 1:18 scale replica, we then must ship the finished units to another factory for them to apply over 7,800 crystals supplied by SWAROVSKI ELEMENTS. The application process takes 3 full days for each model."
Each highly detailed model will come boxed individually in a black leatherette case, hinged in the back complete with a soft fabric interior. The vehicle will be affixed to a black wood base which will also feature a metal nameplate. Each piece will ship with a certificate of authenticity.
Orders from authorized distributors and retailers will be accepted through August. Shipments are expected to begin in November of this year.
The Maisto brand name was registered in 1990 by May Cheong, a vertically integrated manufacturer based in Hong Kong. The company has been manufacturing die cast replicas for over 40 years, have over 11,000 employees worldwide, and manufacturing facilities covering 2,000,000 square feet. For more information, visit www.maisto.com , Facebook and follow us on Twitter.