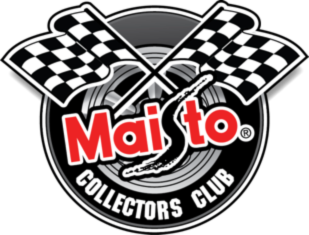 MAISTO INTERNATIONAL PREMIERES MAISTO COLLECTORS CLUB
WRITTEN BY MAISTO
Los Angeles, CA, (May 16, 2012)
With much anticipation and excitement from its die-hard fans, Maisto International is pleased to announce that the long-awaited Maisto Collectors Club has officially launched today.
Maisto fans finally have a place to unite and show their collectors pride for the world's most popular die-cast and radio-control vehicles. For only a $7.50 membership fee (covers shipping and handling), Maisto Collectors Club members will receive exclusive fan club merchandise, a membership card, special discounts, behind-the-scenes e-newsletters, and invitations for special events and promotions throughout the year.
At the launch date of May 10, fan club memberships will only be available within the United States. Maisto Collectors Club Maisto Collectors Club plans to extend its membership worldwide before the end of the year.
"Maisto Collectors Club will be like no other collectors club online," said Rick Berman, Director of International Licensing/Marketing/Design at Maisto. "Both our most loyal fans and new fans deserve something special and we're prepared to bring it to them. The collectors of Maisto die-cast and radio-control vehicles are our ultimate brand ambassadors and we're thrilled to have created something unique just for them."
Maisto Collectors Club members will receive:
Limited Edition 1:64 Die-Cast
Fan Club Membership e-Card
Official Club Poster
Sticker Pack
Fan Club Lanyard
Maisto Pen
Fan Club e-Newsletters
Exclusive new product videos & images
Members only contests
Invitation for live chats w/ Maisto designers
Signing up for the Maisto Collectors Club is fast and easy. Maisto will promote the new fan club through their company website and blog, Facebook, Twitter, MySpace and other marketing partnership websites. They will also initiate a 60-day online advertising campaign primarily through Facebook and Google Ad Words. The campaign is being handled by marketing and promotions agency, Forte The Collective in Los Angeles, California.
Sign up today and don't miss the opportunity to be among the first members of the Maisto Collectors Club. For more information, visit www.maisto.com.
The Maisto brand name was registered in 1990 by May Cheong, a vertically integrated manufacturer based in Hong Kong. The company has been manufacturing die cast replicas for over 40 years, have over 11,000 employees worldwide, and manufacturing facilities covering 2,000,000 square feet. For more information, visit www.maisto.com , Facebook and follow us on Twitter.
For more information concerning this release, contact Rick Berman at rberman@maycheonggroup.com.
Forte The Collective
Forte The Collective is a marketing and advertising agency that offers traditional and new media marketing for minority and/or female-owned businesses. Based in Los Angeles, they deliver progressive creative and strategic marketing to meet the contemporary needs and expectations of their valued clients.
Forte The Collective's competitive edge goes beyond the walls of marketing by building brands and maintaining enduring client relationships and partnerships, something they take great pride in and deliver to their clients above anything else. Forte The Collective's most impactful work and areas of expertise have helped many client industries in: manufacturing, professional services, education, food/beverage, entertainment, sports and non-profit. For more information, visit www.ForteTheCollective.com or like them on Facebook.