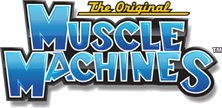 MAY CHEONG GROUP ACQUIRES MUSCLE MACHINES BRAND
WRITTEN BY MAISTO
Fontana, CA. (January 17, 2012)
The May Cheong Group (MCG), manufacturers of the die-cast and radio control brands Maisto and Bburago, have announced the acquisition of tooling and intellectual property of the Muscle Machines brand from Bodylines/Bruce Schultz, the famed 3D artist who worked on the original models. Terms of the transaction were not disclosed.
Muscle Machines was first launched by Funline Merchandising Company in 1999. The company sold to Action Performance in 2003 which then merged with Motorsports Authentics. The Muscle Machines brand, which features American muscle car replicas with exposed chrome-plated engines, beefy rear wheels, and on the larger scales, steel braided hoses, took vehicle aisles by storm in early 2000. The distorted cars with cartoon-like features were best represented on trading card art created by popular Australian artist Rohan Day which accompanied the 1:64 models and much of the packaging. Day has also been retained by MCG to create new artwork for the line.
"We are ecstatic to add this iconic brand to the Maisto line," said Rick Berman, Director of International Licensing/Marketing/Design. "The vehicle aisles could use some excitement, something unique. The return of the Muscle Machines brand will create immediate buzz and we have long-term plans to sustain the excitement for years to come."
The company is planning to unveil the Muscle Machines line at the Nuremberg and New York Toy Fairs this February and to ship to the market towards the end of Q2 2012. The official re-launch will include original castings in 1:64 and 1:24, at least 2 original 1:18 models, and 1:18 radio control. New tools for 1:64 and 1:24 are scheduled for Q4 2012.
More information will soon be available at www.musclemachines.com and www.maisto.com.
The Maisto brand name was registered in 1990 by May Cheong, a vertically integrated manufacturer based in Hong Kong. The company has been manufacturing die cast replicas for over 40 years, have over 11,000 employees worldwide, and manufacturing facilities covering 2,000,000 square feet. For more information, visit www.maisto.com , Facebook and follow us on Twitter.
For more information concerning this release, contact Rick Berman at rberman@maycheonggroup.com.